Laser Arena 15x15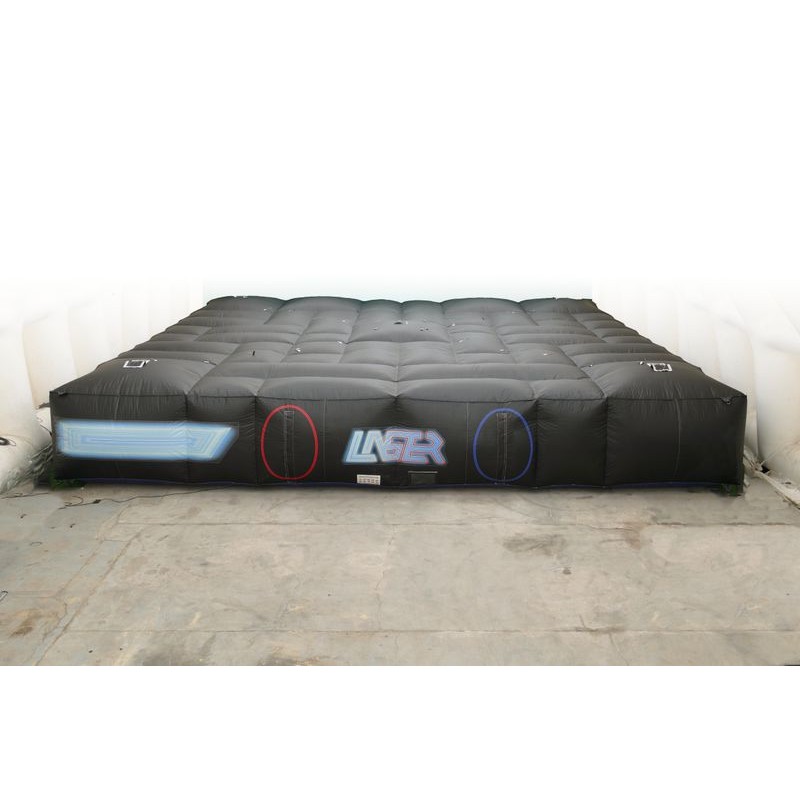 partager
 
Reference produit : JI_16_080
Sur commande
Dimensions :
Largeur : 15m
Longueur : 15m
Hauteur : 2m
renseignement_product
Contact us
Descriptif produits
Generate a challenge in the dark, with smoke and big sound. Every now and then multicolored lighting will give you the feeling of being on another planet, or maybe even in another millennium!
In this inflatable laser maze 2 teams will compete in a laser game... and off you go, to big thrills !!
This big covered inflatable labyrinth, offers you walls with net windows, as well as dead ends which will enable to you to nail your opponents and walls, behind which you can hide and avoid the rival's gunfire.
The roof is welded and thus absolutely rainproof. LED spheres can be attached in the 4 corners and in the middle of the roof. This inflatable Lazer maze is moveable and can be transported easily.
Air et Volume proposes this model in 15 x 15 m; however, there is also one in 9 x 9 m and of course tailor-made upon order in whichever dimensions and decoration you wish.
Are sold separately: the fog machine, the amplified speaker, and the LED sphere.
You may be interrested in these options :

 

Fog machine
LED sphere
Amplified Speaker
Laser Arena 9x9
 
 
 
 
Air et Volume invites you to discover the entire range of our inflatable thrilling games with different themes and different challenges.
On all the models of the range of our inflatable thrilling games, Air et Volume guarantees thanks to 33 years of existing know-how in the making of inflatable structures, a very high-quality manufacturing of its inflatable structures accomplished with high-resistance materials (double and fourfold sewings, AFNOR Standards 14960).
PVC fabric 650 g/ m² M2 fire-rated.
The price is quoted ex works.
Spécifications techniques
Nombre de joueurs max. : 24
Total product weight : 680 kg
Compositions : Toile PVC 650 g/m² certifiée M2
Norme : AFNOR 14960
Documentations
Accessoires fournis
 Repair Kit
 1 Soufflerie Héli...
 Guarantee 3 years
 Assembly instruct...
 Stakes

 Floor tarpaulin
 Slinging halyard
Sur le même thème :