Sandball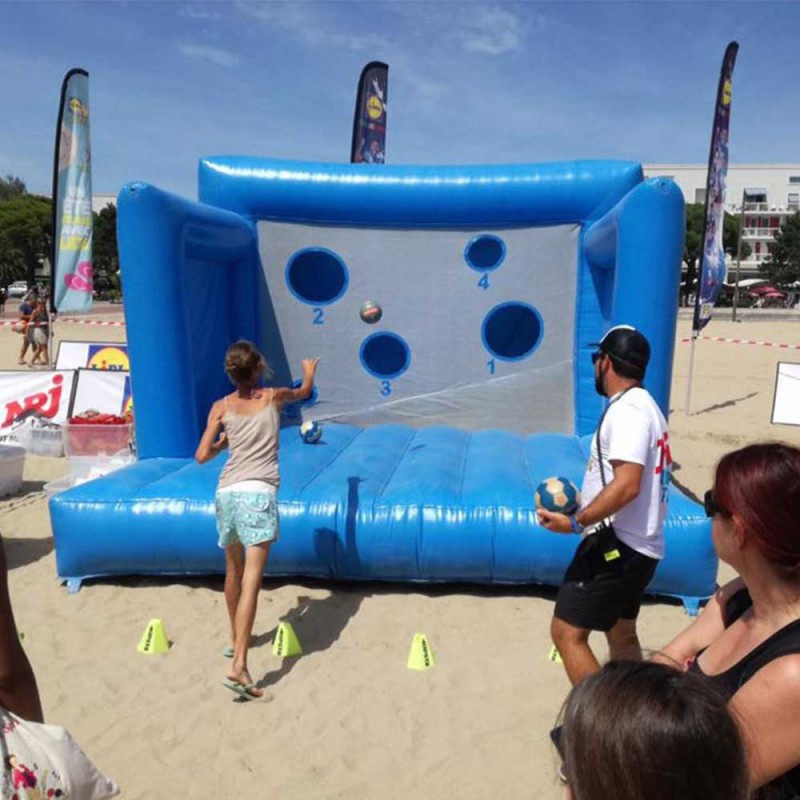 partager
 
Sur commande
Dimensions :
renseignement_product
Contact us
Descriptif produits
The Sandball: A tailor-made inflatable structure to liven up your summer tours !
This tailor-made inflatable game has been specially created to animate the beaches of France during traveling events. Indeed, The Sandball is an inflatable structure which is used during the NRJ Summer Tour, with Lidl stores as main sponsor. This game makes it possible to organize events and tournaments in order to distribute brand goodies to the winners. It is an entertainment, fun and dynamic allowing the public to discover the brand in a festive atmosphere and to get closer to its customers. 
A Beach Handball Inflatable Structure 
This Sandball inflatable structure is a game inspired by Beach Handball, it has one but has 4 targets of different size. To score points you have to throw the ball into the targets, thus you mark the number of points indicated on the target. The smaller the target, the more points you score. The game is equipped with a large inflatable mattress, so players can gain momentum, jump and throw the ball before falling onto an inflatable fall-cushioning mattress. A space is provided behind the net to easily collect the balls. It is a very entertaining animation that will appeal to all holidaymakers.
Air et Volume, manufacturer of tailor-made inflatable games
We manufacture, on request, personalized inflatables as is the case here with the Sandball. We have made many creations of custom inflatable games for our customers. We manufacture the structures according to your specifications and your needs. All the prints are customizable as is the case here on the sides and the back of the game. We can thus change the printed tarpaulins according to a partnership, an event ... We can also customize an inflatable structure that we have in our catalog with your colors as well as your logos. You can contact us on 02 37 52 97 17 or by contact form for all inquiries about the creation of a custom inflatable.
We invite you to discover our online catalog, our tailor-made section as well as our other manufacturing sports games for entertainment.
Spécifications techniques
Documentations