Demolition Ball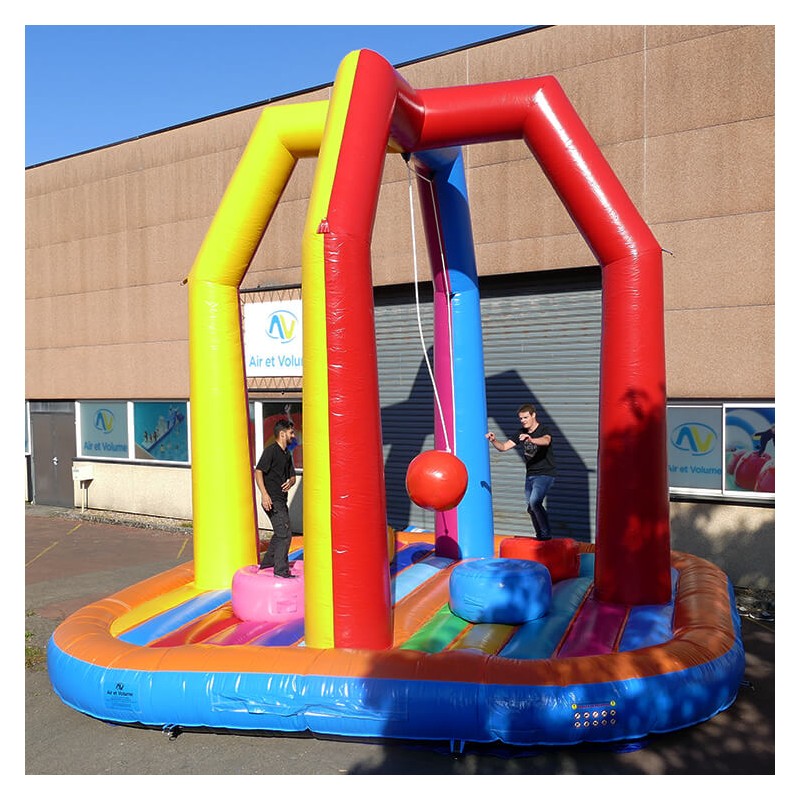 partager
 
Reference produit : JI_19_033
En stock
Dimensions :
Largeur : 7m
Longueur : 7m
Hauteur : 6m
renseignement_product
Contact us
Descriptif produits
Chamboule-Tout Humain: A very fun Inflatable Game !
An all-human messy game where you are alternately target or shooter! Get on your pedestal and throw the ball at your opponents until they fall on the inflatable mattress. You will have to grab the ball and send it to your opponents to unbalance them. You can throw or throw the ball in any direction with your hands or even your feet, but be careful, the ball could throw you off balance and knock you down. The Déboul'tout is an ultra fun inflatable animation, everyone will want to try it and compete with their friends, families, colleagues ...
The last one standing wins the game of Déboul'tout !
Each of the 4 players must try to stay on their rattling mushroom-shaped platform without falling. The opponent in front or to the side will do everything to aim at you with the large waterproof ball attached to the center of the crosspiece of the inflatable structure 6 meters from the top. It will be necessary to avoid this ball while keeping the balance otherwise it is the fall. The ball is coming in your direction? Several choices are available to you: avoid it if possible or take it to revive it on your opponents. Who will have the best balance and the most strength to bring down their opponents?
How fun it is to knock over one's comrades! Step up on your pedestal and throw the ball with a lot of swing on your opponents until they fall on the inflatable mattresss. The last man standing wins!
This inflatable swing him off attraction is super fun !!!
Air et Volume invites you to discover the entire range of our inflatable thrilling games with different themes and different challenges.
PVC fabric 650 g/ m² M2 fire-rated.
The price is quoted ex works.
Spécifications techniques
Nombre de joueurs max. : 4
Age conseillé : 8 years & up
Total product weight : 180 kg
Compositions : Toile PVC 650 g/m² certifiée M2
Norme : AFNOR 14960
Documentations
Accessoires fournis
 Repair Kit
 Guarantee 3 years
 Slinging halyard
 Assembly instruct...

 Floor tarpaulin
 Stakes
 1 Soufflerie 1,1 KW
Sur le même thème :