Multi-sports Arena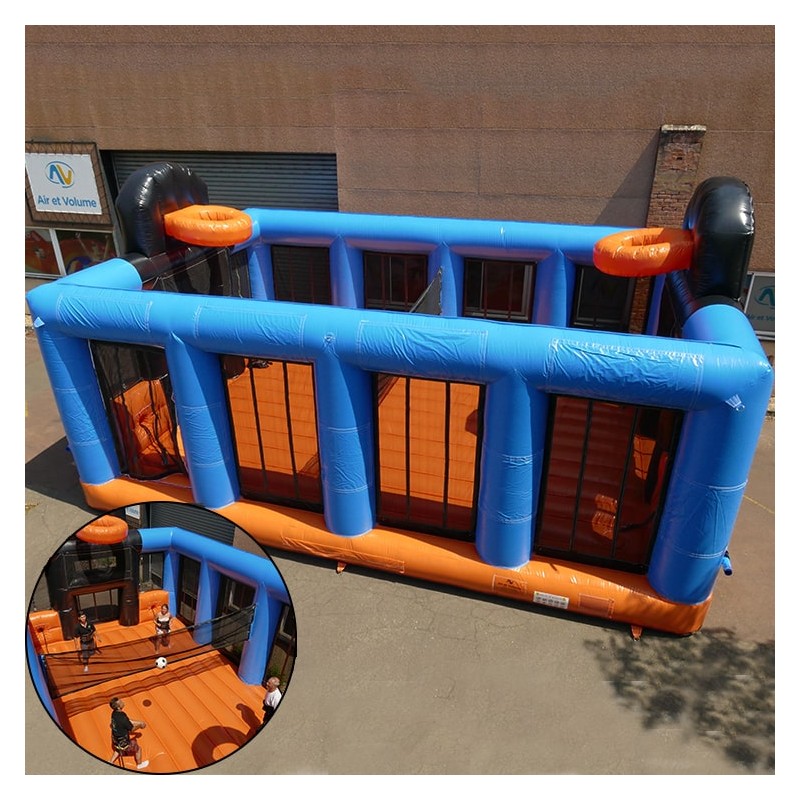 partager
 
Reference produit : JI_19_108
Sur commande
Dimensions :
Largeur : 7,46m
Longueur : 9m
Hauteur : 4,70m
renseignement_product
Contact us
Descriptif produits
AN INFLATABLE ARENA FOR PLAYING BASKETBALL, FOOTBALL, HANDBALL OR VOLLEYBALL !
The Air and Volume Inflatable Arena is a closed structure that can host a choice of football games, handball games, basketball games or even volleyball games. Basketball goals and baskets are present on both sides of the game. The inflatable structure also has a volleyball net in the middle of the field (which you can keep or remove). You can choose the sport you want to practice, and it is even possible to combine several sports in a single game, it's up to you to set the rules! Safety nets prevent players from sending the ball outside the arena. Playing on an inflatable mattress is a whole different story than playing on a football lawn or basketball court: Watch out for balance!
The Arène Sport inflatable structure is a game that will be an undeniable asset during your events. Your customers can have fun and challenge themselves in their favorite sports. This inflatable sports game has several Velcro locations on the outside of the game, it is possible to insert your logo, your sponsor or your company brand on a removable Velcro cover.
AN INFLATABLE GAME EVEN MORE FUN WITH ELASTICS !
For even more difficulties, elastic bands are attached to your waist. You will therefore have to force on the elastic to advance into the opposing camp. But if you force too much the elastic will be too tight and will make you return to your area faster than expected.
Watch our video of the Multi-Sports Arena
AFNOR 14960 standard
PVC fabric 650 g / m² M2 certified.
The price announced is from Nogent-le-Rotrou
Spécifications techniques
Nombre de joueurs max. : 2 à 8
Age conseillé : 6 years & up
Total product weight : 340 kg
Compositions : Toile PVC 650 g/m² certifiée M2
Norme : AFNOR 14960
Documentations
Accessoires fournis
 Repair Kit
 Slinging halyard
 1 Soufflerie 1,5 KW
 Assembly instruct...
 Guarantee 3 years
 Stakes

 Floor tarpaulin
Sur le même thème :