Human Pool Table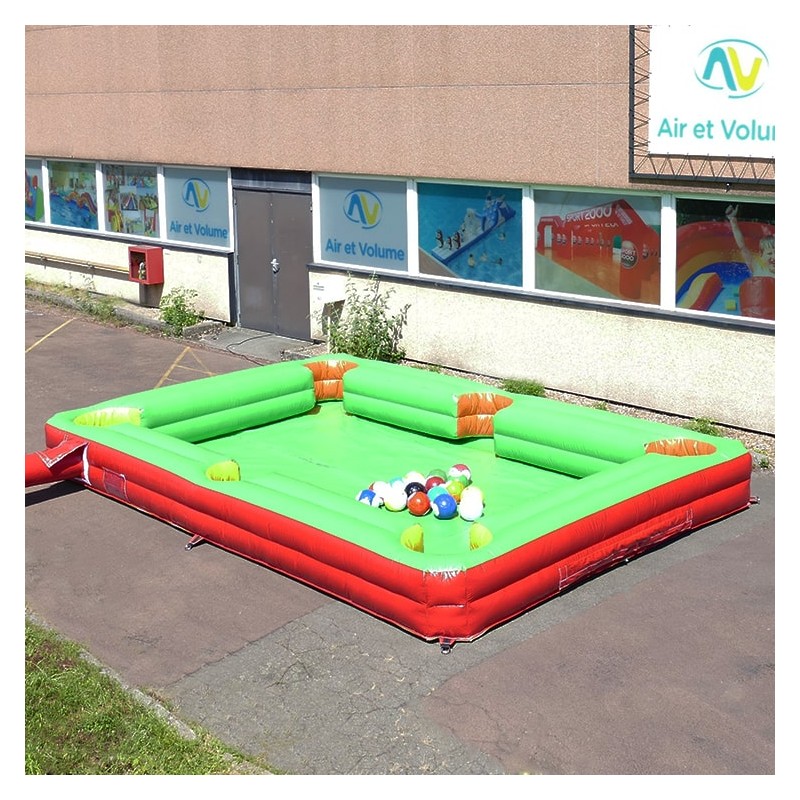 partager
 
Reference produit : JI_19_099
En stock
Dimensions :
Largeur : 4m
Longueur : 6m
Hauteur : 0,50m
renseignement_product
Contact us
Descriptif produits
A HUMAN FOOTBALL BILLIARD FOR COMPLETELY CRAZY GAMES !
Air et Volume offers you an original animation: the Human Billiards to play billiards in a completely crazy way!
This inflatable Billiard Foot game uses the same rules as classic billiards - with which you have undoubtedly played for many hours - but by changing a big detail: you will play directly on the ground using your feet! In this human pool game, no canes and the pool balls are replaced by soccer balls. You must enter the field and shoot at the foot into the white ball to kick and bring the balloons of your team (balloons full or circled) into the holes. You will have to be precise and know how to adjust your strike force to win the game. Watch out for the black ball!
The giant Human billiards is an inflatable attraction that will be a hit at any event.
Rules of the game :
You can transpose the rules of billiards for your animation of human billiards:
. At the start of the game, all the balls are gathered in a triangle (except the white ball).
. The first player will have to shoot the white ball to break the triangle.
. If a ball enters one of the cells then the player will have as team the color of the returned ball ("full" team or "striped" team) and he must return only the balloons of his color until the end of the game.
. If no ball has returned then it is the second player's turn to attempt to enter a ball into one of the holes.
. When the teams are designated, the player must always touch a ball of his color first.
. If the black ball returns during the game, the game is immediately over and the player is declared the loser.
. When a player returns a ball of his color, he can replay.
. If a player does not touch a ball of his color first (i.e. if he touches an opponent's ball first, a black ball or no ball) then he commits a foul and the opposing player is awarded 2 consecutive shots during his turn.
. When a player has successfully returned all of his colored balls, he must still return the black ball to win the game of human pool. If the white ball and the black ball enter at the same time then the player loses the game.
Watch the video of our Human Pool Table !
AFNOR 14960 standard
PVC fabric 650 g / m² M2 certified.
The price announced is from Nogent-le-Rotrou.
Spécifications techniques
Nombre de joueurs max. : 15
Age conseillé : 6 years & up
Total product weight : 60 kg
Compositions : Toile PVC 650 g/m² certifiée M2
Norme : AFNOR 14960
Documentations
Accessoires fournis
 16 Ballons Numérotés
 Repair Kit

 Floor tarpaulin
 1 Soufflerie 1,1 KW
 Stakes
 Guarantee 3 years
 Assembly instruct...
 Slinging halyard
Sur le même thème :