Un Stand Gonflable Publicitaire à votre image !
29 juin 2022
The Inflatable Stand will help you organize all your events!
Why use an inflatable stand?
The inflatable booth is a structure that allows you to both attract customers and accommodate in a covered space. We manufacture, on request, inflatable stands of all sizes and shapes. It is possible to customize your stand to your image. You can thus benefit from increased visibility during your ephemeral events thanks to the inflatable advertising stand.
The inflatable stand can also be used to house your commercial events in order to receive your customers and prospects in good conditions. It is a structure that can be installed both indoors and outdoors, so you can install it at trade shows or at your outdoor events. We have, for example, made many inflatable stands for the NRJ Summer Tours (a traveling summer tour on the beaches of France). The stands in the colors of the partners and sponsors of the summer tour have the advantage of being able to shelter the crowd from weather conditions (sun, rain, etc.) to show the presence of the brand (the stands are visible from afar) and to attract all the curious. In this way, brands can meet customers and prospects in an original and relaxed atmosphere.
The inflatable stand will allow you to organize all your ephemeral events or traveling optimally.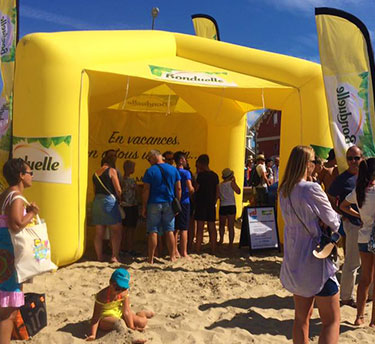 An inflatable stand that is easy to set up
The inflatable stand can be set up very quickly and without any difficulty. All you have to do is unfold the structure and plug in the permanent blower. The stand will take shape in seconds: you can set up your stand absolutely anywhere!
Once inflated, you can install small furniture inside your stand to make it more comfortable for your employees as well as for your customers. Some of our customers have equipped their stand like a real office with tables, chairs, a lighting system or even coffee machines.
The day is coming to an end? Your animation is finished? Once the blower is disconnected, the stand deflates very quickly. All you have to do is fold up the structure and store it in its carrying bag. So you're ready for your next event.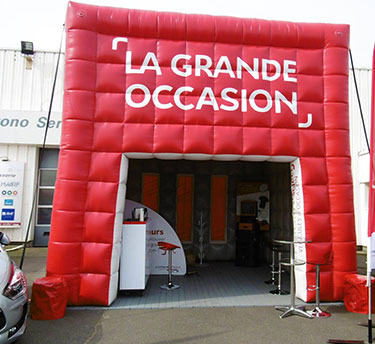 Un Stand gonflable Made in France
Air and Volume, French manufacturer of professional inflatable structures, designs all your inflatable booths. All the manufacturing steps are carried out in our offices and then in our workshops: 3D designs, printing, cutting, sewing...
These inflatables are designed on customer request. We can make all forms of stands: square inflatable tents, igloo tents... with the colors, logos and prints of your choice. It is also possible to have a tent with several removable entrances depending on your event.
Everything is possible and achievable. We were even able to design very original stands like tents in the shape of cows!
If you are interested in purchasing a custom-made inflatable stand in your company colors, contact us. We can then send you a personalized quote.
To see some examples of our realizations of inflatable advertising tents, you can find our corresponding gallery by clicking on the link below:
Advertising Inflatable Tents and Stands