Des Lapins Lindt dorés en Gonflables Géants pour Pâques !
28 mars 2022
Air et Volume has manufactured Giant Inflatable Rabbits for the Lindt brand
We are proud to have manufactured giant inflatable rabbits for the Lindt brand. These famous chocolate bunnies become large inflatable structures that will be visible in stores during the Easter period. These inflatable advertising bunnies, as golden as real chocolate bunnies, will thus be set up and used as decorations on stands for commercial events. The gluttony will show on the faces!
We have made 2 different models of inflatable rabbits with a difference that lies in the dimensions of the mascots. Indeed, the majority of Inflatable POS are 3 meters high, but some models of these rabbits are larger and can measure up to 4 meters in height. These rabbits have been designed in a noble and quality material imitating the golden paper and the famous packaging of the Lindt brand.
Inflatable mascots to boost your purchases
A giant POS featuring your mascot will surprise store customers. This inflatable POS is visible from afar and will attract all eyes. Some will even want to take a picture next to the giant mascot. Who has never cracked in front of such cute bunnies, even more so if they are chocolate.
Attracting customers to your stand is one thing, but getting them to buy your products is another. Don't panic, the giant inflatable structure is also a very good marketing tool to sell more of your products! Customers will spot the golden mascot at a glance and will be more easily tempted to make an impulse purchase. The presence of your mascot will seduce chocolate lovers and will motivate unanticipated purchases. And yes, a beautiful stand boosts your sales in stores!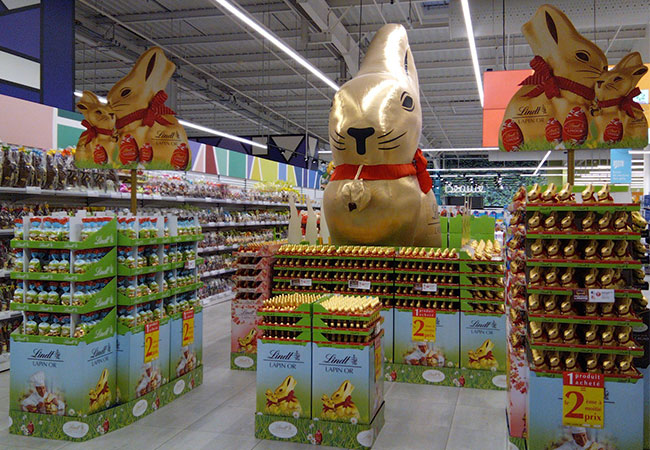 Air et Volume, More than 35 years of experience in the Manufacture of Inflatable Structures
We make all kinds of inflatable advertising structures bearing the image of your mascot, your product, packaging, etc. We put all our know-how to work so that inflatable structures are a true copy of your original model: the resemblance is breathtaking! All these rabbits, like all our ventilated inflatable structures, have been designed and manufactured in France, in our premises located in Eure-et-Loir with quality materials that are durable over time. We can create inflatable structures of all shapes and sizes. We adapt to all your needs and create your inflatable structure in strict compliance with your specifications.
A Giant Inflatable POS display that is easy to use for all your events
Inflatable advertising allows you to animate all your events (Easter, Christmas, holidays, etc.) and easily decorate a POS stand in large and medium-sized areas. Our inflatable structures can be installed both indoors and outdoors. They are set up very simply since you just have to connect the permanent blower to see your mascot take shape. At the end of the animation, simply unplug the blower for the structure to deflate. Once folded, the mascot takes up little space for transport or storage.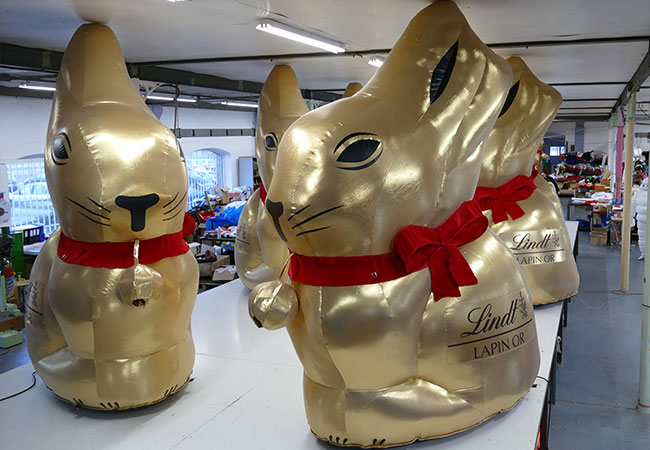 We invite you to discover in pictures our other creations of POS and inflatable structures bearing the effigy of famous mascots: