Jungle Slide L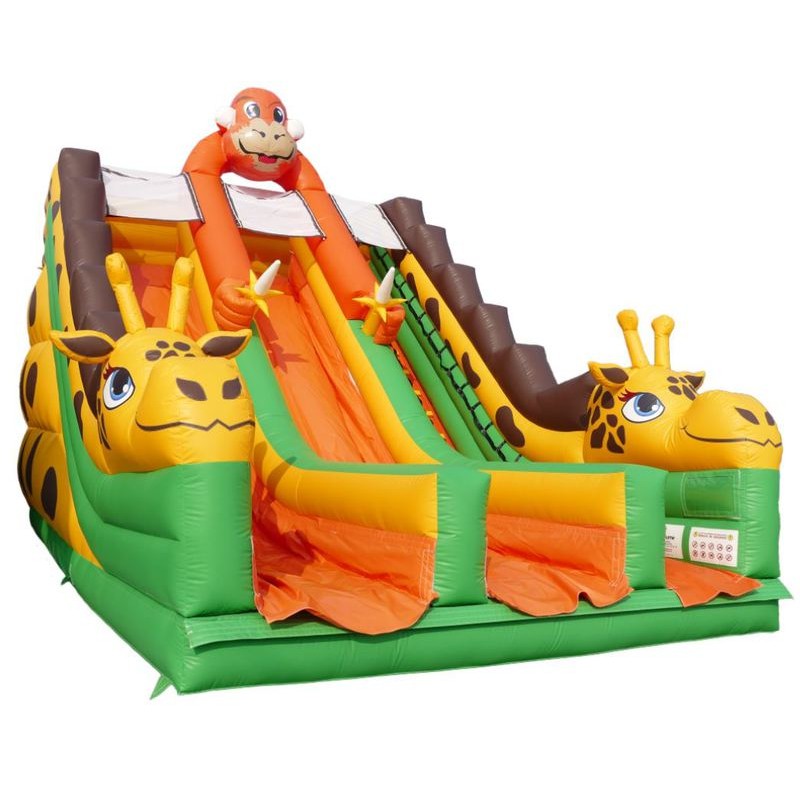 partager
 
Product reference : TG_19_033
In stock
Dimensions :
Platform Height : 4m
Width : 5,20m
Length : 9m
Height : 6,90m
renseignement_product
Contact us
Description
An inflatable slide as big as a giraffe!
Let yourself be tempted by an exotic journey in the savannah with this very beautiful inflatable slide. The slide starts at 4.5 meters high and the sensations are guaranteed! Roll down the slope on the necks of our giraffes! Be careful, a mischievous monkey positioned at the top of the attraction is just waiting to push you!
Its double sliding tracks make it possible to maintain a significant flow of children and the protective nets will ensure their safety. With its animals of the savannah, it is an inflatable structure that does not go unnoticed and which will certainly liven up your outdoor playground.
This inflatable slide easily turns into a water game for the summer!
Our inflatable attraction can turn into a real water slide! Nothing could be simpler, just add a waterproof basin. There is even the possibility of adding a slide extension so that the slide lasts longer. And splash you will refresh yourself in the middle of a beautiful oasis between our two giraffes!
When purchasing your inflatable slide, we provide you with a perforated pipe to install in the play nets. Once connected to your garden hose, simply turn on the tap and water will come and go. wet the two descents. The slides will be even faster and more refreshing! Kids as well as adults will love sliding at top speed and ending up in big splashes.
The price is quoted ex works.
We advise you to purchase a water filtration system as well as a lifting pump to use your aquatic installation in a closed circuit.
Flat drilled pipe provided when purchasing this inflatable slide.
How to transform your Inflatable Slide into an Aquatic Slide
Technical specifications
Recommended age : 4 ans et +
Total product weight : 380 kg
Composition : Toile PVC 650 g/m² certifiée M2
Standard : AFNOR 14960
Number of players per hour :
Dimensions Folded Set :
Documentations
Supplied accessories

 Floor tarpaulin
 Guarantee 3 years
 1 Soufflerie 1,5 KW
 Repair Kit
 Slinging halyard
 Assembly instruct...
 Stakes
 Tuyau Micro-Perforé