Slide L Colours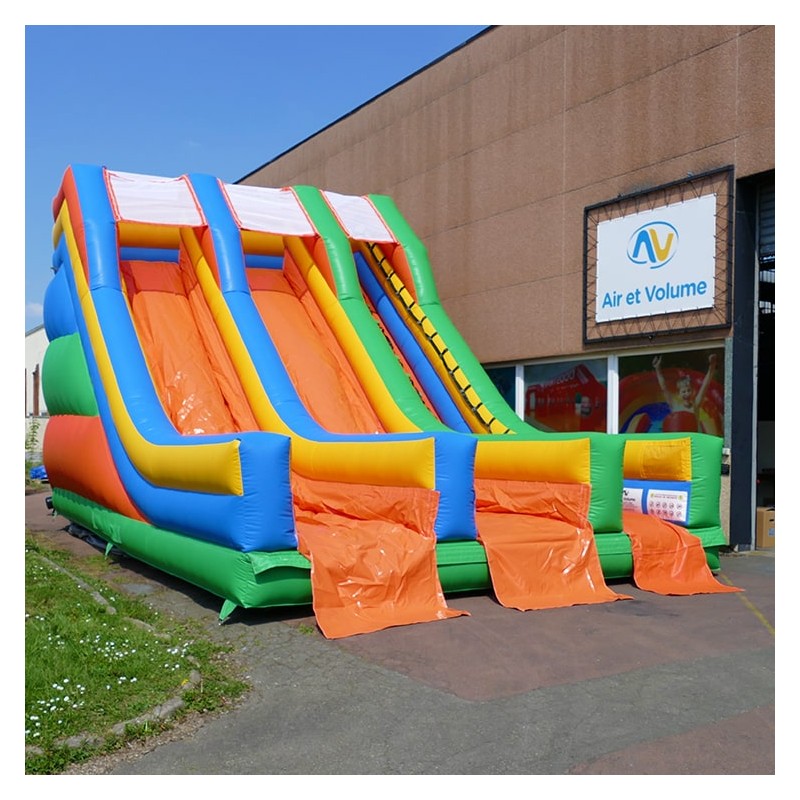 partager
 
Product reference : TG_19_028
On demand
Dimensions :
Platform Height : 4m
Width : 5,20m
Length : 9m
Height : 5,50m
renseignement_product
Contact us
Description
Start a dizzying slide at a 4.5 m height ! With this very colourful inflatable slide, you can offer your guests a leisure attraction that is full of sensations! Little ones and grown-ups will be able to climb and slide in an always festive and cheerful atmosphere !
With its total height of 6 m, the slide L colours is a good compromise between size and thrill.
Its double lanes allow you to maintain a large flow of children and the protective nets provide for their complete security.
This inflatable slide easily turns into an aquatic game for the summer.
Air et Volume invites you to discover the entire range of our inflatable slides with different sizes, colors and different themes.
On all the models of the range of our inflatable slides, Air et Volume guarantees, thanks to 33 years of existing know-how in the making of inflatable structures, a very high-quality manufacturing of its inflatable structures accomplished with high-resistance materials (double and fourfold sewings, AFNOR Standards 14960).
PVC fabric 650 g/ m² M2 fire-rated.
The price is quoted ex works.
Compatible with:
You may be interested in these options :
Propose an attraction that will not be short on excitement, moreover with its colorful aspect and its total height of 6 m the Slide L Colours is a good compromise between dimensions and excitement.
PVC fabric 650 g/m² M2 fire-rated.
Inflatable game complies with AFNOR standards EN 14960.
The price is quoted ex works.
How to transform your Inflatable Slide into an Aquatic Slide
Technical specifications
Recommended age : 4 ans et +
Total product weight : 380 kg
Composition : Toile PVC 650 g/m² certifiée M2
Standard : AFNOR 14960
Number of players per hour :
Dimensions Folded Set :
Documentations
Supplied accessories
 Stakes

 Floor tarpaulin
 Guarantee 3 years
 Slinging halyard
 Assembly instruct...
 Repair Kit
 Tuyau Micro-Perforé
 1 Soufflerie 1,5 KW