Sea Paddling Pool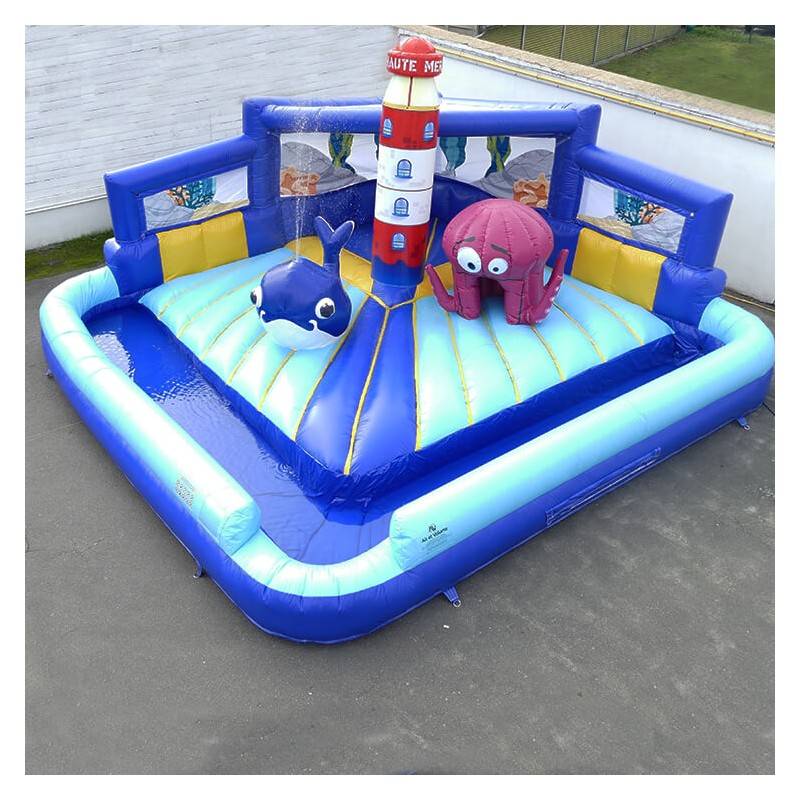 partager
 
Product reference : PG_19_001
On demand
Dimensions :
Width : 7,30m
Length : 7,30m
Height : 3,80m
renseignement_product
Contact us
Description
A bouncy castle with paddling pool!
We offer you an original and refreshing activity for your playground: The Bouncy Castle with paddling pool. And yes, the big plus of this inflatable structure is that it can accommodate water in a pool directly integrated into the game. This attraction will be an undeniable asset for the animation of your children's play area.
The Inflatable Sea Paddling Pool will make children dive into the deep end!
This very beautiful inflatable game on the theme of the sea is composed of an obstacle in the shape of a whale, an octopus that can shelter children, a jumping mat and a shaded area. Children will be able to wade, laugh and have fun everywhere in the paddling pool. For even more splashing, the inflatable structure and the whale-shaped obstacle shoot water in 3 different places to sprinkle the children, it's an ideal water game for the youngest!
An easy-to-install Inflatable Water Game
The Pataugeoire Mer is an inflatable structure that is easy to set up. Simply insert the permanent blower into one of the sleeves in the set and then plug it in. Your paddling pool will inflate itself very quickly. We prepare all the aquatic connections for you, you just have to connect the splitter (provided when you buy your game) to the 3 pipes located at the exit of one of the game's zippers then connect your pipe watering. The water will gush out through the 3 outlets provided for this purpose in the game to spray all the little adventurers. You can fill the basin beforehand or let the water fill it. To avoid wasting water, we recommend that you purchase a lifting pump and a filtration pump (optional).
Note that your paddling pool can be used with or without water. When the weather is not good, it is quite possible to use this game as a simple bouncy castle. You can even fill the small pool with foam balls to offer a new activity.
Technical specifications
Number of players max. : 15
Recommended age : 4 ans et +
Total product weight : 220 kg
Composition : Toile PVC 650 g/m² certifiée M2
Standard : AFNOR 14960
Dimensions Folded Set :
Avec Toboggan(s) : Non
Avec Toit : Oui
Thème : Mer
Supplied accessories
 Guarantee 3 years
 Slinging halyard
 1 Soufflerie 1,5 KW

 Floor tarpaulin
 Repair Kit
 Assembly instruct...
 Stakes