2-part Shark Course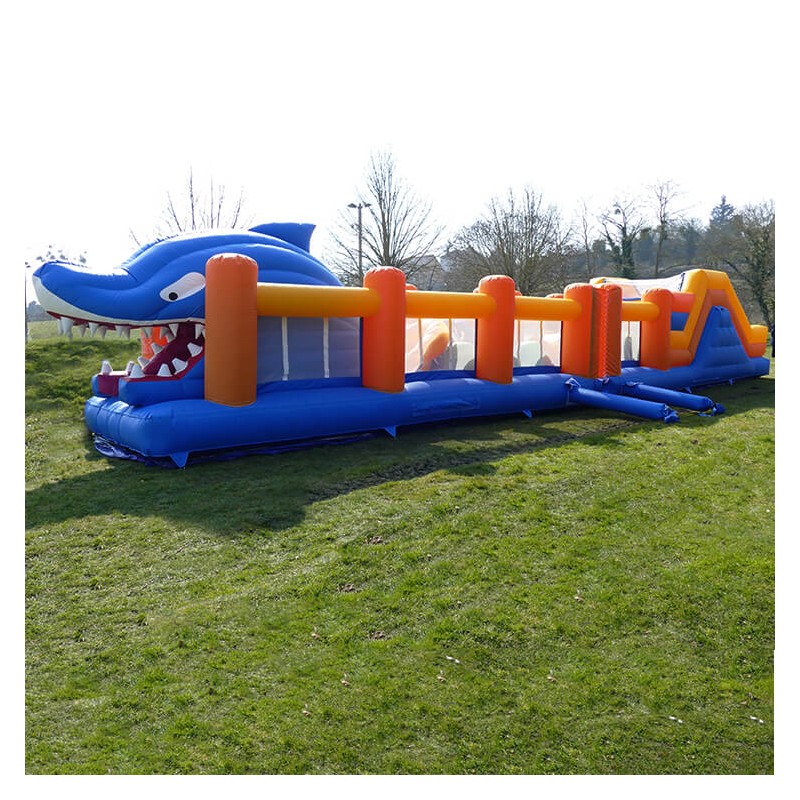 partager
 
Reference produit : PO_16_031 S
Stock limité
Dimensions :
Largeur : 3,55m
Longueur : 18m
Hauteur : 3m
renseignement_product
Contact us
Descriptif produits
Let this nice inflatable shark take a bite out of you and prepare yourself for a big adventure in his belly, where you'll find a bunch of inflatable fish, funny biff and bashes, a roll to climb over, hoops and horizontal tubes.
Phew! Finally the exit ! But before that, you're going to have to get up the climbing wall and slide down the big inflatable slide !
This inflatable giant shark was pretty nice... What if I let myself be nibbled at again ???
This 18 m long, inflatable shark obstacle course is in 2 parts, allowing easy installation and easy handling. The protection nets at the top of the slide and all around the course will ensure the safety of the children.
Air et Volume invites you to take a look at all the models in the range of our inflatable obstacle courses in different sizes and colors and with or without themes.
On all the models of the range of our inflatable obstacle courses, Air et Volume guarantees, thanks to 33 years of existing know-how in the making of inflatable structures, a very high-quality manufacturing of its inflatable structures accomplished with high-resistance materials (double and fourfold sewings, AFNOR Standards 14960).
PVC canvas 650 g/ m² M2 fire-rated.
The price is quoted ex works.
Spécifications techniques
Nombre de joueurs max. : 25
Age conseillé : 6 years & up
Total product weight : 400 kg
Compositions : Toile PVC 650 g/m² certifiée M2
Norme : AFNOR 14960
Documentations
Accessoires fournis
 Assembly instruct...

 Floor tarpaulin
 Repair Kit
 Stakes
 Slinging halyard
 Guarantee 3 years
 2 Souffleries 1,5 KW
Sur le même thème :