2-part Crocodile Course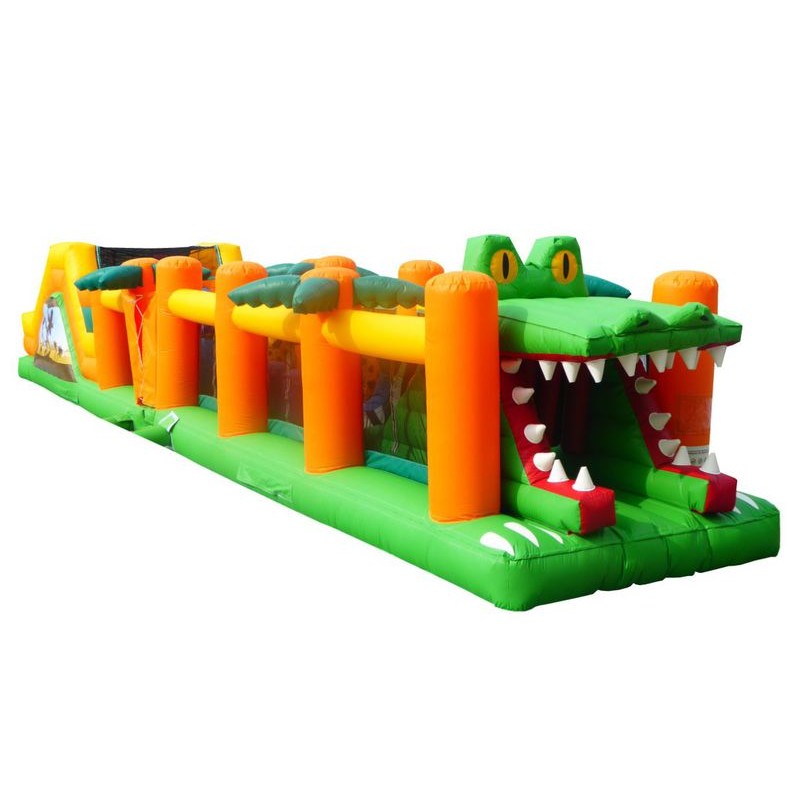 partager
 
Reference produit : PO_16_030 S
Sur commande
Dimensions :
Largeur : 3,55m
Longueur : 18m
Hauteur : 3m
renseignement_product
Contact us
Descriptif produits
Inflatable 2-part Crocodile Course
Adventure's calling ! This cute inflatable crocodile will eat you up alive ! You'll have to crawl under the arches, pass through the hoops, fight through the forest of biff and bashes, jump over the horizontal obstacles, climb and glide on a large slide to get out of the course again ...
Zebras, tigers, monkeys etc. will accompany you. This is a very colorful, very complete and versatile inflatable course that you'll love !
The inflatable course offers many obstacles and their manufacturing requires special attention and technical knowledge that we master. All obstacle junctions are reinforced by a second PVC fabric layer. This will allow you to jump, shoot and push without risk and always with lots of fun !
The 18 m long, inflatable crocodile course is in 2 parts, allowing easy installation and easy handling. The protection nets at the top of the slide and all around the course will ensure the safety of the children.
PVC fabric 650 g/ m² M2 fire-rated.
AFNOR Standards 14960​.
The price is quoted ex works.
Spécifications techniques
Nombre de joueurs max. : 25
Age conseillé : 6 years & up
Total product weight : 400 kg
Compositions : Toile PVC 650 g/m² certifiée M2
Norme : AFNOR 14960
Documentations
Accessoires fournis

 Floor tarpaulin
 Assembly instruct...
 Guarantee 3 years
 Stakes
 Repair Kit
 Slinging halyard
 2 Souffleries 1,5 KW
Sur le même thème :