Inflatable Color Course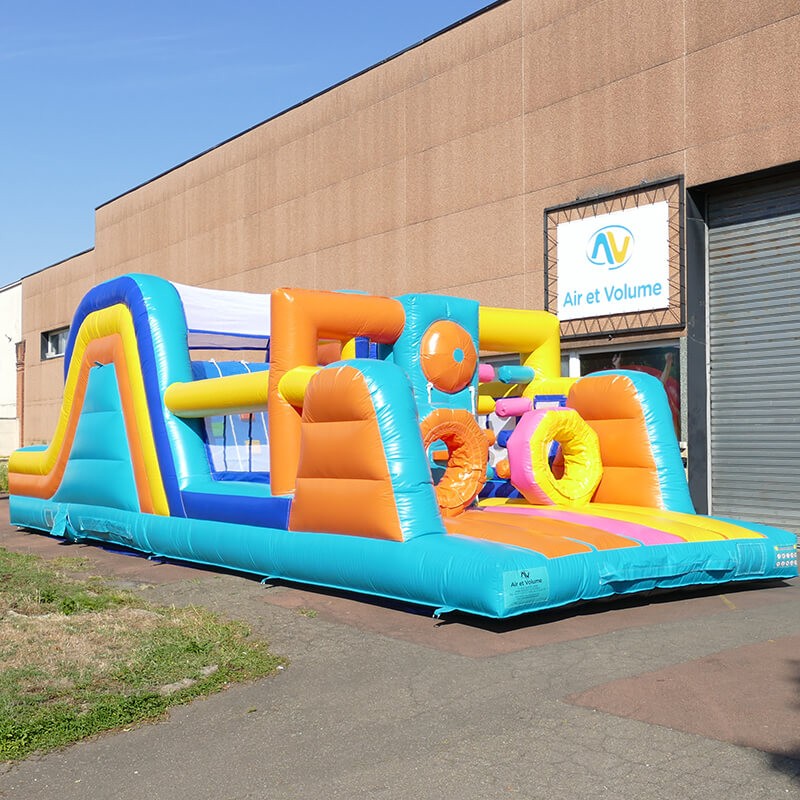 partager
 
Reference produit : PO_19_037
Sur commande
Dimensions :
Largeur : 3,70m
Longueur : 11,50m
Hauteur : 3,50m
renseignement_product
Contact us
Descriptif produits
A BIG INFLATABLE COURSE FOR YOUR PLAYGROUND !
Offering many activities within a single inflatable course is possible thanks to the Colorful Inflatable Course. It is an inflatable structure combining a multitude of obstacles to overcome (hoops, ladder, studs, obstacles to avoid ...), a large wall to climb followed by a slide. The children will try to overcome all the obstacles: a real challenge ! Children can have fun for a long time in this inflatable structure or decide to finish it as quickly as possible. what is certain is that they will want to start this course again once they have finished it.
A COLORFUL INFLATABLE JOURNEY
The colorful inflatable course stands out from the other courses in our catalog by its bright and cheerful colors. Thanks to its versatile colors, it is a course that fits easily into an inflatable playground, whether on a campsite, during activities or events, in an indoor park ... On request, it It is even possible to modify the colors of this game to obtain a custom inflatable course.
AFNOR 14960 standard
PVC fabric 650 g / m² M2 certified.
The price announced is from Nogent-le-Rotrou.
Spécifications techniques
Nombre de joueurs max. : 15
Age conseillé : 4 ans et +
Total product weight : 250 kg
Compositions : Toile PVC 650 g/m² certifiée M2
Norme : AFNOR 14960
Documentations
Accessoires fournis
 Repair Kit
 Assembly instruct...
 Guarantee 3 years
 Slinging halyard
 Stakes

 Floor tarpaulin
 1 Soufflerie 1,5 KW
Sur le même thème :