Inflatable Target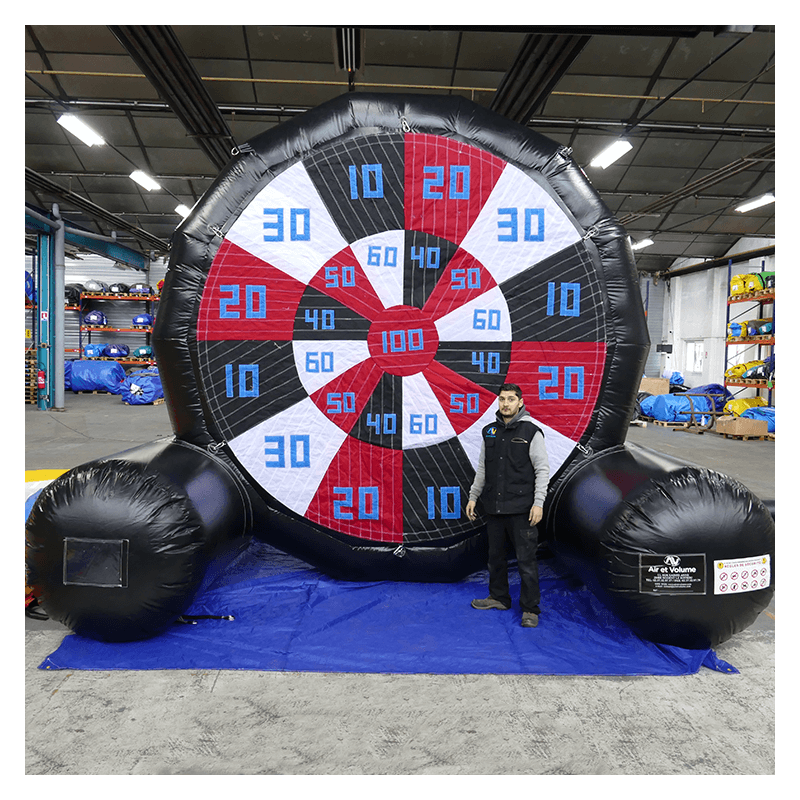 partager
 
Product reference : JI_19_119
On demand
Dimensions :
Width : 4,80m
Length : 3,30m
Height : 4m
renseignement_product
Contact us
Description
A giant inflatable target!
Get ready for an insane football darts animation! This inflatable game is the giant reproduction of the targets found in bars and cafes. Another difference: we do not play with darts but with footballs covered with velcro. Indeed the surface of the target is also covered with velcro so that the balloons can remain attached when they come into contact with the target. Each area of ​​the Giant Inflatable Target is numbered, aim just to score as many points as possible. It will therefore be necessary to be precise so that the ball clings to the center of the target and thus collects the maximum number of points.
How to play Foot Dart?
The rules of the game are very simple, just shoot the balloons towards the inflatable target. The closer you get to the center, the more points you will score.
You can take inspiration from the basic rules of the darts game for your Target Foot activity or invent your own rules. So you can, for example, decide that the first player to reach exactly 500 points wins the game. The players take turns shooting in bursts of 3 balls and count their score. It is also possible to play as a team by alternating the shooter of each team. For more difficulty, you can increase the distance between the target players.
Accumulate your scores over several rounds. Thanks to this Inflatable Football Target, you can create real competitions and tournaments.
A 2-in-1 Football Target Animation for your playground
This inflatable structure has not 1 but 2 targets! Indeed, each side of this game has its own velcro target. You can thus organize 2 football darts matches at the same time!
It is an inflatable football game that is intended for both children and adults. You can thus animate all your events: playground for children, amusement park, fairgrounds, fairs, EVJG... This attraction is easy to install and is very handy thanks to its low weight. It can be used both indoors and outdoors.
The Inflatable Target is supplied with 10 velcro balloons (female velcro) as well as a telescopic landing net to unhook the balloons from above.
Possibility of buying an additional telescopic landing net to catch balloons scratched at the top of the target.
Possibility to buy additional footballs as well as velcro rugby balls.
Hand pump for inflating balloons supplied with the purchase of this inflatable structure.
The advertised price is from Nogent-le-Rotrou.
Technical specifications
Recommended age : 6 years & up
Total product weight : 70 kg
Composition : Toile PVC 650 g/m² certifiée M2
Standard : AFNOR 14960
Dimensions Folded Set :
Documentations
Supplied accessories
 Repair Kit
 1 Soufflerie 1,1 KW
 Épuisette Télesco...
 Stakes
 Guarantee 3 years
 Assembly instruct...
 Pompe à main pour...

 Floor tarpaulin
 Slinging halyard
 10 Ballons Velcro