Create your own Giant Inflatable Course !
The Delirush Course: A giant inflatable course !
The Delirush Course in 7 modules is the largest inflatable game in the entire range of Air and Volume inflatable products. With its 58 meters long, it is an obstacle course that offers a real challenge to all participants. The Délirush inflatable course offers a unique inflatable fun experience with, among other things, a large slide, obstacle forests, tunnels, jumping structures, a ball cage, etc. Its giant size and its many challenges make it a choice course. for a successful animation. The Délirush course is also an excellent base for your event organization and rental services, it allows you to offer à la carte activities and to adapt your service to space and budget constraints.
Un Parcours gonflable Modulable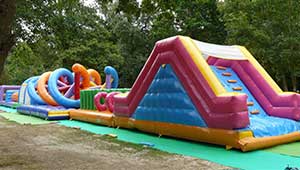 Adapt your route to your space. The giant inflatable course is made up of several modules, all independent of each other and each having their own wind tunnel. Each module is designed to be operated individually while respecting AFNOR EN 14960 safety standards. So you can, if you wish, only acquire 2, 3, 4, 5 or 6 modules depending on your available space. The giant course can be installed in a straight line (as in the photos of illustrations) as well as in a square, in a circle, on the way ... Similarly, it is possible to place the modules in any order and to change this order when you want it. This guarantees you to have a unique course and to be able to modulate it as you see fit.
Like all our inflatables, the Délirush course can be personalized to your image, we can add your logo and make it to measure in your colors. It is even possible to create custom inflatable modules! And yes, we will make your own inflatable modules to create the course of your dreams. Thanks to the Délirush, opt for a unique inflatable course adapted to your playground !
Discover all our modules to create your Inflatable Course :
Create without further delay your giant inflatable course! Discover our different modules available by clicking on the link below. Slide, obstacle or tunnel modules, there will be something for everyone.
MODULES TO CREATE YOUR GIANT INFLATABLE COURSE