Good Questions to Ask Yourself Before Buying Your Inflatable Game
Here are a few tips to help you choose the right inflatable game when setting up your company or buying a new inflatable game.
What type of inflatable game?
| | |
| --- | --- |
| | Many types of inflatable games are available: Inflatable castles, Inflatable slides, Inflatable courses, activities, sports or thrill games… Each family of games has its own characteristics allowing it to offer a variety of activities. Consult our catalog as well as our online store to familiarize yourself with the different families of Air and Volume games and choose the game (s) that will integrate your play area and diversify your activities. |
What is my budget ?
Your budget is certainly one of the most important points when choosing and purchasing your inflatable game. It all depends on your needs and your current projects. With the same budget, you can for example buy several small inflatable castles or a large model of inflatable course or also a slide with sliding track ... Our cheapest inflatable castles are available from € 1,100 excl. other inflatable castles are available for less than € 2,000 excluding VAT. For larger structures such as courses or large inflatable slides, the price will be a little higher. To keep expenses down, we offer used inflatable games and display models at reduced prices.
For what age group of children?
Also define your need according to the age of the children who will be using the inflatables in your playground. We have inflatable games for all ages: small inflatable games specially dedicated to the little ones (from 2 to 6 years old) as well as larger inflatable structures for children between 6 and 12 years old but also games for teenagers and even adults. You will find information on the age range of each game in our catalogs as well as in each sheet of our online store.
For how many children?

Our inflatable games are available in different sizes and have different seating capacities. The number of children is a variable that should be carefully analyzed before purchasing because opting for a small structure and welcoming too many children will not be optimal for the proper use of the game.

How much play weight am I ready to handle?

It is a good idea to limit your purchases first if you are alone at a maximum weight of 150 kg / 200kg. Larger structures require having an extra person to help you set up and fold the game.
How to set up an inflatable game?
The size of the game is also going to be a factor when it comes to purchasing your inflatable structure, this will mostly depend on your available space. The inflatable structure should not be installed on a site with a slope greater than 5%, in any direction. The implantation site must be free of any debris and / or sharp objects on or in the surface.
Under no circumstances should the structure, or any of its parts, be placed under a cable or power line, or under tree branches or external structures that may be in contact with the structure or the users. The inflatable structure must be installed far from any possible risks, such as overhead lines or other obstacles with dangerous protrusions (fences and / or trees, for example).
If there is a perimeter fence to channel the crowd, it should be at least 1.8m from the walls and at least 3.5m from the open sides. The entrance to the fence should be 1.0 m wide.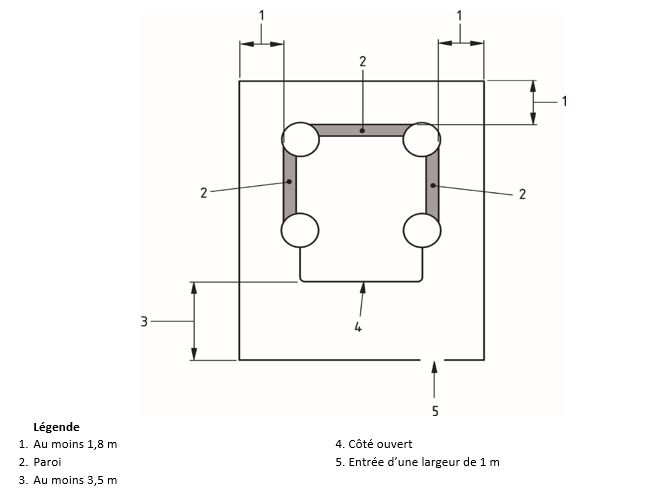 Note: It is not mandatory to respect a space of 1m80 between 2 sets if you position them side by side, wall to wall.
What theme for my inflatable game?
Air et Volume offers you many themes: Sea, Space, Farm, Jungle etc ... but also games without themes with bright colors. There is something for every taste. So you can choose a game that fits easily into the universe of your playground or a very colorful inflatable game that can be seen from afar. We can even change the colors and theme of an inflatable game and make custom inflatable games according to your requests.
An inflatable game indoors or outdoors?
Ask yourself if you need a covered inflatable or not (presence of a roof). Some of our inflatables have a roof, others do not and some of our games have removable roof covers that can be removed at any time. It's up to you to choose a bouncy castle with or without a roof depending on your outdoor or indoor entertainment.
If you use the game outdoors, the inflatable structure must not be used by a wind force beyond 5 on the Beaufort scale (38km / h: the large branches are waving, you can hear the wind whistling, umbrellas are likely to overturn). It is recommended to immediately deflate the inflatable in case of rainy or windy weather. In the event that children are playing at this time, get them out of the inflatable as soon as possible to prevent them from injuring themselves.
A game with or without obstacles?
We offer small and large inflatable games without obstacles. Children will have fun jumping on the inflatable mattress, bouncing and doing pirouettes. For a more fun game, you can choose a game with obstacles or a game with a climb and slide ... or even an inflatable complex bringing together all these activities!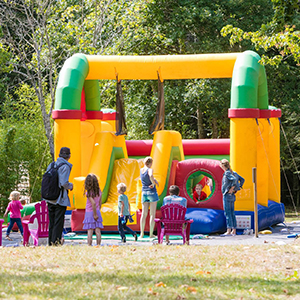 What accessories are included with the game?
For each ventilated inflatable game (game working with a blower permanently connected) Air and Volume provides you with:
The blower to be able to inflate the game. The blower must be permanently connected to 220 V - 16A to be able to operate. When the blower is disconnected, the inflatable structure is no longer supplied with air and deflates very quickly.

Anchor stakes and halyards to secure your inflatable game to the ground.

Ground sheet to protect the underside of the game from the ground surface

A repair kit which contains glue, a needle and thread as well as pieces of PVC. This repair kit allows you to make minor repairs without having to return the set to us.

Instructions for use and the inflatable structure logbook

The Certificate of compliance with AFNOR Standard 14960 (2013)

3 years warranty for a new inflatable game
Useful information
On our website and in our brochures, you will find for each game: The reception capacity, the age range of the users, the dimensions of the game and the weight of the game.
A set of 4 x 3m unfolded on the ground; folded, rolled for transport fits on 1 pallet 120 x 80 x h 100cm A set of 6 x 5 m unfolded on the ground; folded, rolled for transport fits on 1 pallet 140 x 120 x h 120cm
Still hesitating between several inflatable games ? It is possible to come and see us in our premises (13 rue Sainte Anne, 28400 Nogent le Rotrou) so that we can inflate the structures that interest you. Air et Volume has a stock of more than 500 inflatable games, so you can see them, appreciate the quality of our structures and test them before making your choice.
You can even buy on site and leave with your inflatable game in stride..