How to use your Belly Slide in Aquatic mode ?
The Inflatable Belly Slidee 1 Track in aquatic version :
There are 2 ways to use the 1 track Belly Slide with water :
By watering the entrance to the sliding track
We equip our Slides with a garden hose at the head of the sliding track. A pipe passes through the hole in the side to reach the top of the structure. A water nozzle is used to water the start of the slide.


By watering the sliding track over its entire length
You can install a Gardena-type pierced pipe all along the track using the loops provided for this purpose and connect it to a water inlet. You can water the slide as you wish.

Here is a suggested installation :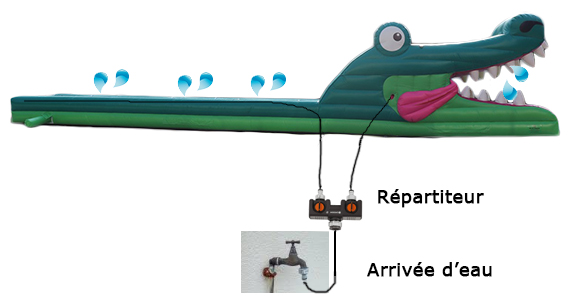 Air and Volume provides the hose for watering the entrance to the slide. The other elements are optional (distributor and drilled pipe).
You can also buy a 1-track Belly Slide pool to receive the water slide. For even faster slides, you can use soap.
The 2-Track Inflatable Belly Slide in aquatic version :
The 2-track inflatable Belly Slide is equipped with loops on the central roll. All you have to do is pass a drilled Gardena-type hose and connect it to a water inlet so that the water can spray the 2 sliding tracks.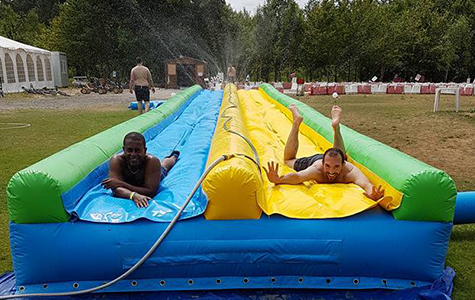 You can opt to purchase a 2-run slide reception pool. The slide will end in a big splash !