Wall of Champions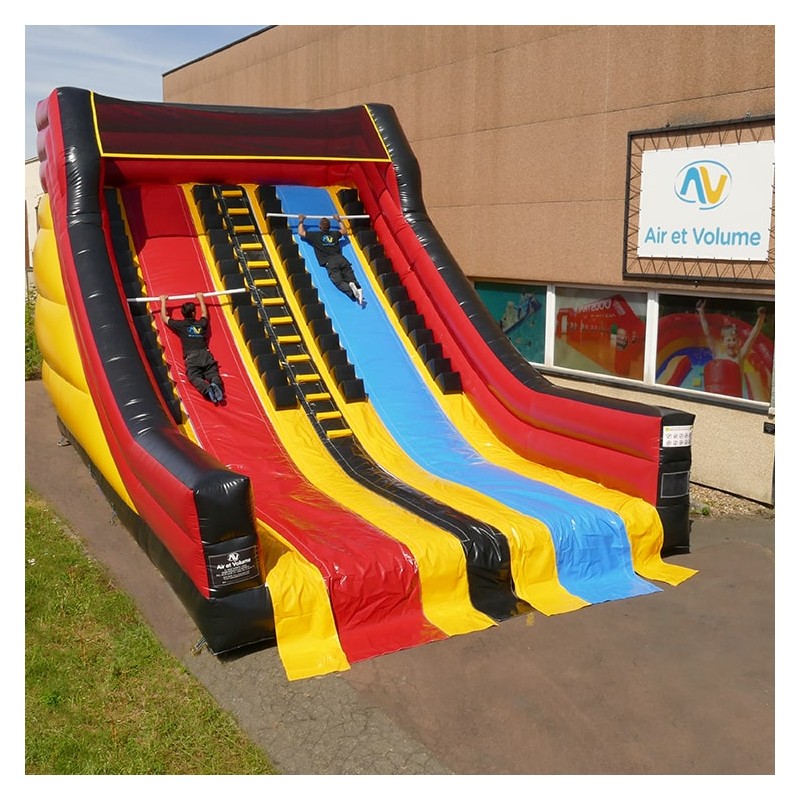 partager
 
Product reference : JI_19_093
On demand
Dimensions :
Width : 5,20m
Length : 9m
Height : 5,50m
renseignement_product
Contact us
Description
THE INFLATABLE CHAMPIONS WALL: A STRONG TEST !
This inflatable structure is a real challenge! With a bar you have to succeed in climbing the wall using only the strength of your arms. The first to arrive at the top wins this challenge. If no one reaches the top, the person who reached the highest step wins the game. Be careful if you use your feet, you risk disqualification. It's an inflatable game for the toughest!
Those who are at the end of their rope will slide safely to the bottom of the inflatable structure. It is an attraction intended primarily for adults but children can very well try to climb as many steps as possible. once the "Wall of Champions" animation is finished, you can also use this game as an inflatable slide.
The star Game of Intervilles in Inflatable structure !
Revealed by the game show Intervilles, this inflatable game is a must-see attraction for all your activities. It is the test of truth and strength par excellence which served as the grand final to designate the winning city of the duel. A challenge that only the strongest will take up.
Today the Champions Wall can become a fun activity and can be used for many occasions: as part of activities for friends, competition between athletes, organization of Olympiads or team building ...
Watch our Walls of Champs !
My colleagues have had a hard time climbing as high as possible, I'll let you discover down below:
AFNOR 14960 standard
PVC fabric 650 g / m² M2 certified.
The price announced is from Nogent-le-Rotrou.
Technical specifications
Number of players max. : 15
Recommended age : 10 years & up
Total product weight : 340 kg
Composition : Toile PVC 650 g/m² certifiée M2
Standard : AFNOR 14960
Dimensions Folded Set :
Documentations
Supplied accessories
 Stakes
 Assembly instruct...
 Slinging halyard

 Floor tarpaulin
 1 Soufflerie 1,1 KW
 Guarantee 3 years
 Repair Kit