Tomahawk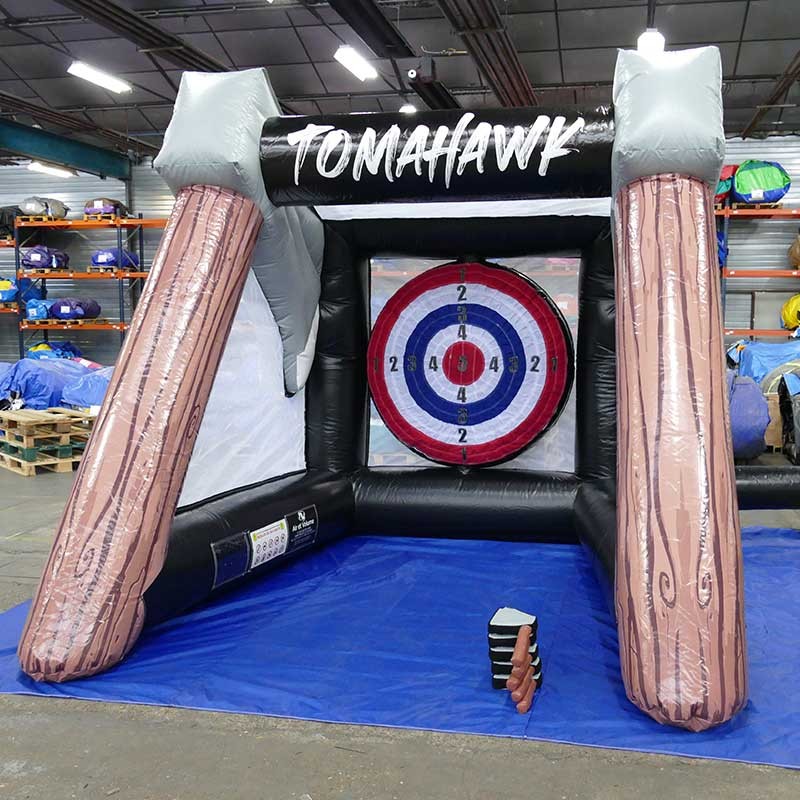 partager
 
Product reference : JI_20_120
Limited stock
Dimensions :
Width : 3m
Length : 3,35m
Height : 3m
renseignement_product
Contact us
Description
The Tomahawk: An Inflatable Ax Throwing Game!
The Tomahawk is a very entertaining inflatable game. Who will manage to throw their ax in the middle of the target? The player has a few axes with a velcro part. The play structure features a large numbered velcro target. The object of the game is to throw the ax so that it attaches to the target. The closer the ax is to the center, the higher the number of points. Players can take turns and count the number of points over several rounds. This game is very easy to pick up, the velcro axes attach very easily to the target. For more difficulty, you can increase the shooting distance between the target and the players.
An inflatable structure within everyone's reach
Thanks to this inflatable game, ax throwing can very well be within reach of children! Throwing Tomahawk will liven up your playground in a whole new way! Aim straight and collect as many points as possible to win the game. Velcro axes are lightweight and very easy to wield, players will be able to aim and hit the target quite easily. It's all about precision!
Ax throwing: A fashionable activity
The ax throwing activity is an original and very trendy activity. In recent years, ax throwing stands have been popping up all over France. This unusual game of skill puts you in the shoes of warriors with the handling of their favorite combat weapons. With a long experience in the manufacture of inflatable leisure structures, it is quite naturally that this extraordinary activity has imposed itself in our catalog.
You can install this inflatable structure absolutely anywhere, indoors or outdoors: This is the advantage of inflatables! This game is very easy to handle and can be installed by one person. This inflatable attraction can thus animate all your special events (local parties, birthdays, EVJG, EVJF, Team building...) but also your playgrounds.
Technical specifications
Recommended age : 6 years & up
Total product weight : kg
Composition : Toile PVC 650 g/m² certifiée M2
Standard : AFNOR 14960
Dimensions Folded Set :
Documentations
Supplied accessories
 Slinging halyard
 1 Soufflerie 1,1 KW

 Floor tarpaulin
 Assembly instruct...
 Guarantee 3 years
 Stakes
 Repair Kit
 5 Haches avec Velcro