Moon Jump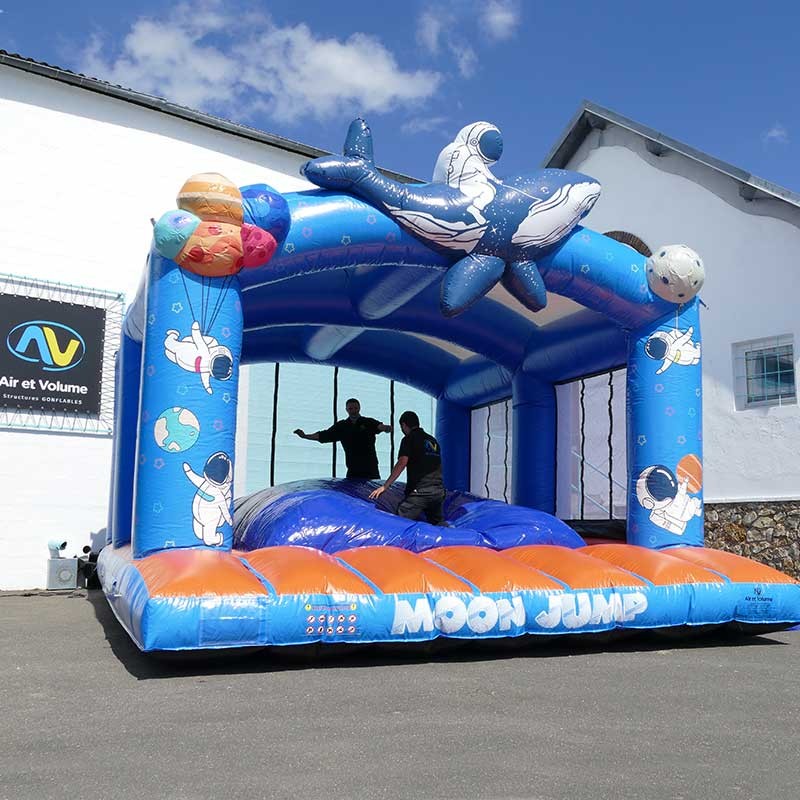 partager
 
Product reference : ES_21_015
In stock
Dimensions :
Width : 5m
Length : 7m
Height : 4,25m
renseignement_product
Contact us
Description
A Soft Mountain for an original animation
The Moon Jump is part of our range of inflatable Montagne Molle games (also called soft dome). The "Soft Dome" part of this inflatable structure is in fact an unstable air pocket where it is difficult to keep your balance. Climbing and playing on this soft mountain is a lot of fun because falls are common here, especially if other players are jumping to shake things up! Kids will love climbing, jumping and bouncing on this soft surface to row and knock down their friends. Nothing is funnier than a soft mountain to liven up your children's play area!
Moon Jump: An Inflatable Game to bounce on the Moon!
This space-themed inflatable game will take you on a journey through the solar system. Children will be able to sink and bounce on the central part of the game, as if they were on the moon or on another planet. Children will imagine themselves as an astronaut walking on the surface of the moon. Progress on the soft dome will not be easy, each of the players evolving on this structure will be able to destabilize the dome to trip up all the other adventure companions. Laughter guaranteed.
The return to Earth will be safe. Indeed, the soft mountain is equipped with protective nets all around the game. The soft dome and the inflatable mattress will also receive all falls gently.
An easy-to-install bouncy castle
The Montagne Molle Moon Jump is an inflatable structure that sets up quickly. You just have to unroll the game and connect the permanent blower so that the game inflates itself. You can install this bouncy castle both indoors (indoor park, party room...) and outdoors (in a campsite, at the beach...) This unique inflatable game will be a real asset for the animation of your leisure space.
Technical specifications
Number of players max. : 10
Recommended age : 4 ans et +
Total product weight : 170 kg
Composition : Toile PVC 650 g/m² certifiée M2
Standard : AFNOR 14960
Dimensions Folded Set :
Documentations
Supplied accessories
 1 Soufflerie 1,1 KW
 Assembly instruct...

 Floor tarpaulin
 Guarantee 3 years
 Stakes
 Repair Kit
 Slinging halyard